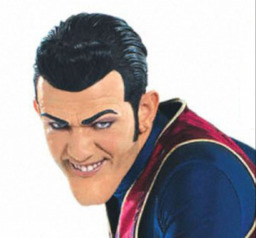 Source
Robbie Rotten, after numerous failed attempts to pursue and catch the super sporty Sporticus now sets his villainy eyes (and chin) on someone who flies around more than flips around.
Or rather, somepony.
He fails spectacularly.
---
Crossover with MLP and Lazytown.
Update: Hit the top of the featured box on 12/25/16. I guess this fic really is "number one".
Unfortunately, our lovable lazy antagonist suffers from pancreatic cancer in real life. If you so wish, you may donate to Stephan Karl (aka: Robbie Rotten) to help him out. Such a great man deserves the best treatment.
Update: Robbie Rotten has passed away. He will always be number one in all of our hearts.
Chapters (1)