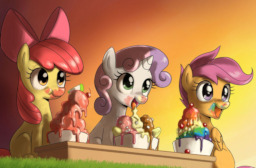 Source
The Cutie Mark Crusaders, supervised by their sisters, go out to trick-or-treat for Nightmare Night. But what happens when they come across a strange house near the Everfree Forest?
---
Another oldie, which admittedly I wrote last year but it's high time I put it here! Hope you like it!
Quick note - I wrote this before "Crusaders of the Lost Mark" aired, so the original was a bit out of date. I took the liberty of making some quick edits!
Chapters (1)