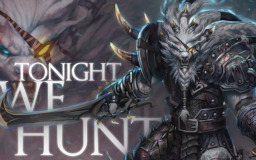 Source
The Everfree is loaded with dangerous beasts and critters. From manticores that could end a life with one injection of its tail venom, to towering hydras that could swallow a pony whole.
To the ponies, this is a nightmarish land to never, ever set hoof in.
To a hunter, it is paradise.
When Fluttershy nearly gets mauled by another dangerous inhabitant of the Everfree, the deadliest, unknowing to him, ends up saving her from death. Fluttershy realizes too late, that the one who had saved her was nothing more than the kinds of people who she has the lowest of low opinion on.
Hunters.
And she has just met the most dangerous one of Equestria.
---
Crossover of My Little Pony: Friendship is Magic and League of Legends
Art credit to: dethfalcin.
Take caution when viewing comments in case of potential spoilers.
Chapters (25)