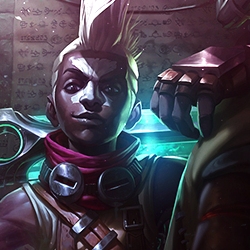 Hello. Name's Ekko. I have a LOT of experience involving time displacement, machines , and many inventions I come up with in order to survive in Zaun. But none of those skills would prepare me for what exactly I got myself into one faithful day.
After I was summoned to participate in a battle on Summoner's Rift, the tradesman at my teams base hands me a crest of my home city and says for me to keep it as a token of his appreciation. Not giving it a second though, I take his advice and keep it. As the battle concludes though, something goes wrong and I'm send to a world where there are talking equines and other creatures and I happen to cause any attention wherever I go.
Ugh... I hate being responsible...
A league of legends crossover featuring the Boy Who Shattered Time; Ekko. Wanted to try and do a Displaced story from a different kind of perspective and decided to roll with it. Hope you guys enjoy it.
League of Legends belongs to Riot Games
MLP belongs to Hasbro and Lauren Faust
Big thank you to ElementBrigade, KarmaSentinel, mrkillwolf666 and ShadowFall for helping me with the editing process and lending major support! You guys are awesome!!
Current Status: Cancelled. I'm sorry guys, but I don't have any way in order to continue this story. I might revisit Ekko at another time, but for now, I need to put this story to rest.
Chapters (12)