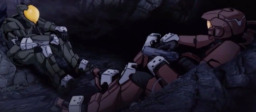 This story is a sequel to Guardians
---
The FLINTLOCK SAGA finale.
The Covenant have a foothold in Equestria. But for every inch they take, they pay dearly at the hands of the headhunters.
It's Ishmir, Marko and Princess Warlock against a Covenant army. There is still time to stop the key from turning on the gates of Tartarus. So Flintlock will give everything they have. There is no going back.
Win or lose, the Battle for Equestria ends today.
Halo (non-canon) vs. My Little Pony (season 4) Crossover
Rated Teen for gratuitous swearing and violence.
Chapters (7)