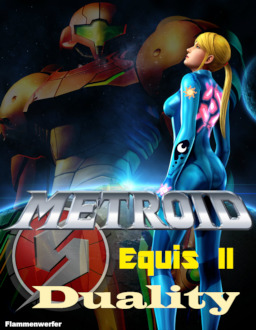 This story is a sequel to Metroid Equis
---
With the culmination of events on the BSL Research Station, Samus Aran is finally able to come back to Equestria, Planet Equis; to come back home. Much has changed in her absence, but it is still the friendly, peaceful, welcoming planet and nation that she left behind two and a half years prior. With the Space Pirate threat neutralized and the secret, illegal Metroid militarization programs destroyed, it appears that Samus can finally take another massive breather with her friends and enjoy some well-deserved rest, recovery, and relaxation. The galaxy is finally at peace.
At least... for a short while.
A new enemy, one much closer to home, soon rears its head, threatening all of Equestria and Equis with complete and utter annihilation. Their mission: revenge. Samus will fight with all of her being alongside her allies against an enemy who would like nothing more than to see all that she holds dear, including her home planet, completely razed. In so doing, her cunning, ever determined enemies unleash a weapon so unexpected, so eerily familiar yet horrifically foreign that even Samus herself just might prefer the late Ridley or the SA-X...
---
---
Editing Team: Random_Dragon; ToxiClay
The Metroid Timeline/Chronology (confirmed by Nintendo) can be found here.
Canon Considerations
MLP-FiM: Up to AND including "Magical Mystery Cure." (Seasons 1, 2, and 3)
Metroid Series: Everything up to AND including Metroid Fusion (Including original mangas. See official timeline above). So, effectively everything.
Chapters (9)