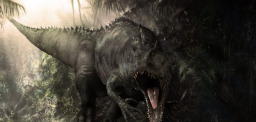 Warning: Spoilers of Jurassic World

It was to be the greatest find ever. Dinosaurs were something long since turned to bones. However a perfectly persevered Dinosaur was found.
It was to well preserved. Now the greatest hunter ever to walk the planet is free in Equestria. However this wasn't any normal Dinosaur.
In fact it wasn't even natural. Can the nation peace and harmony survive the greatest predator ever?
Indominus Rex!
tags will be explained in future chapters.
Chapters (4)