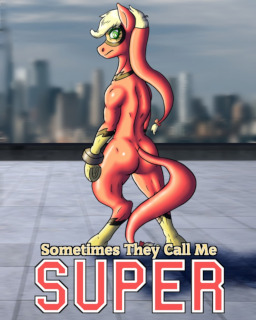 Source
Koren: "Super is currently undergoing some reconstruction. While the story will continue to see new chapters until it is complete, the earlier chapters in this story are being adapted to my current formatting process. This note will self destruct after reconstruction is complete."
---
In a different Equestria than the one we know, a virus broke out thirty years ago, causing mutations in ponies in every way imaginable. Some wished to hide their new powers and forms, while others made quick work abusing them, turning into Equestria's first super villains. The Princesses put out an edict stating that those who wish to fight against these Power Ponies who would do evil would be heavily compensated for their work. It's not until many years later that the first true hero would step up on the city stage, sparking a revolution in Manehattan.
This story was inspired by all the Super Heroes and Super Power shows I grew up with, but after some time creating the world and shaping the characters in it, it became so much more. Twists and turns, changes and escalations await inside the world of Sometimes they call me Super. Our heroes all start out alone and come together to form something that no hero alone could do. Follow the excitement through the eyes of our protagonist and more as they try to defend the city they call home. Welcome to Manehattan.
It's dangerous to go alone, take this!
--[WARNING]--
The comments contain spoilers
Chapters (94)