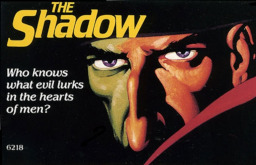 Source
Lawful Crane and his girlfriend Pearl Lane happen to be in town during Anon-a-Miss' reign of terror in Canterlot High. Crane, being a skilled detective, is easily able to determine that Sunset Shimmer is being framed. Having devoted his life to protecting the innocent and punishing the guilty, he decides to expose the true Anon-a-Miss as an invisible avenger known as The Shadow. Through the use of a mysterious hypnotic power he learned in the far East, he is able to cloud other people's minds so they cannot see him, rendering him invisible.
Soon, Anon-a-Miss will learn that the weed of crime bears a bitter fruit. . .
Crime does not pay. . .
The Shadow knows!
This is a crossover with The Shadow Radio Show (1937-1954), a weekly radio program that dramatized stories from the pages of Street & Smith's Detective Story Magazine.
Chapters (3)