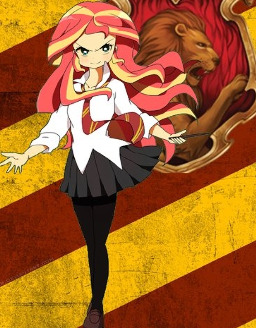 Celestia and Sunset's fights were getting out of control so with that in mind both decided to take a break from their mentor/student relationship.
With a lot of time at Sunset's disposition Celestia offers the unicorn a change of pace and perspective and shows her the portal mirror, but this time instead of the Equestria Girls world being at the other side instead Sunset finds a world where magic hids behind secrets and spells.
Accepting the chance to study at the prestigious Hogwarts School of Witchcraft and Wizardry, Sunset will find herself in the middle of a war between good and evil; will a unicorn that hasn't been touched by harmony be capable of fighting the addictive power of dark magic or will she become a pillar for Harry and his friends?
What is known is that Hogwarts and the english wizard world are not prepared for the craziness and shenanigans of Sunset Shimmer.
Originally part of The Many Destinies of Sunset Shimmer.
Chapters (6)