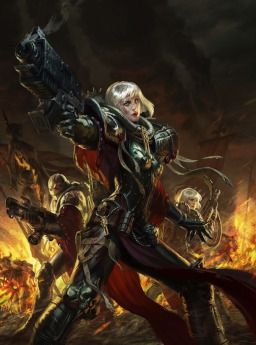 Source
Part of the Destiny of the Ancients
It is the 41 Millenium and in the Imperium of Man there is one thing that everyone should fear; The Inquisition. With the mission of destroying heresy and chaos wherever it appears in the millions of planets that make the largest empire in the known universe, they have their hands full considering how dark the universe is. With dark gods ready to pounce on every single living being, heretic armies marching in and xeno scum ready to plunge what they see as a weakened Imperium.
Of course, not everything is lost, since Canoness Sunset Shimmer and her Order, the Sun of Eternity, the Solis Aeterni, is ready to defend the citizens of the Empire, or if the need appears, burn everything in sight.
Sadly, something went wrong and instead of appearing on a planet in the Imperium, they arrive at Equus were things are not what they seem, since a power even greater than the Dark Gods or the Chaos Marines has set its sight on the planet. Although they have their defenders, they are completely unprepared for the destruction and madness that will sweep across the land.
In this dark hour, where war is the only answer, can Sunset Shimmer make the difference between freedom and extinction for ponykind? Will Sunset even help, or will she burn the heretics, the mutant and the unclean as is her duty alongside her sisters?
Join me as we see how Sunset arrived at the world of Warhammer 40000 and how she began to ascend in the ranks of the Adepta Sororitas also known as Sisters of Battle, how she met her current team and how she could mean the end or salvation of every single universe.
See how she tries with all her might to keep her forces and new friends from killing each other, to create a front against the darkness and the mad power of the Warp and to create a new home for her and her Solis Aeterni.
Burn the Heretic
Kill the Mutant
Purge the Unclean
A Warhammer 40k crossover in 10 chapters.
Chapters (8)