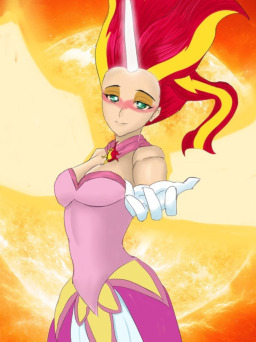 Source
Part of The Destiny of the Ancients
When one door opens another closes down, but what happens behind those closed doors? What if you could find out what other surprises destiny had for you behind them?
My name is The Observer, I have existed even before Celestia and Luna, I have found an anomaly and that one is Sunset Shimmer, the first of pony kind to not only travel and reside in another universe, but also a being that has always been shaping and molding destiny around her, a being full of mysteries and danger.
The rules of the game have changed and the multiverse as they know goes beyond anyone's expectation.
I was the one who created them all.
From Celestia and Luna, to the ones who record the story Observer and Keeper.
So many lives and destinies across hundreds of universes, all showing that no matter what could happen, destiny is always fixed, except for one creature.
Sunset was born without a destiny and across the multiverse she has taken many roles; from mentor to guardian, from nightmare to savior. This is her curse and blessing at the same time.
From the scientific bases in Phobos and Deimos, to the frozen mountains of Skyrim. She is a protector of Konohagakure, a fighter wearing the sacred Cloth of the Phoenix, she is the Avatar, she is a singer known as Jem and many, many more adventures.
All of that is found inside this multiverse.
But a darkness that infects all is aproaching and will soon strike with only a few beings aware of the danger he represents to existance in general.
And what's this about a mysterious guest and a tea party?
Chapters (193)