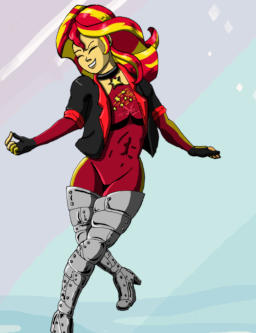 Source
Part of The Destiny of the Ancients
60 years ago Sunset Shimmer went through the mirror connecting Equestria with the Human world, but instead of arriving at Canterlot the mirror had other ideas. Sunset found herself stranded in a little place called Beach City, a place that is being protected by a quartet of space rocks that can take human form.
Meeting Rose Quartz and the rest changed her life, turning Sunset from a moody and angry teenager to a caring, witty and a-little-too-much-ego kind of girl, but those idyllic days couldn't extend forever, because when a corrupted gem attacked the city and she was heavily injured saving human beings, Sunset turned into something no gem had seen before.
That was so long ago.
Now Sunset is Spinel, a hybrid that has a gem instead of a heart and whose powers are still a mystery to the surviving Crystal Gems.
This is her story.
Of how she became a Crystal Gem.
Of how she helped raise little Steven.
Of how she continues saving the Earth while making friends in Canterlot.
Art by GPizano:
Chapters (21)