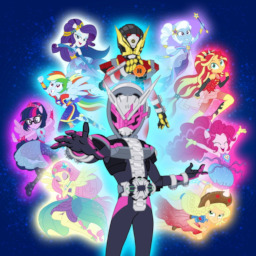 Kamen Riders. Legendary heroes that ride motorcycles to fight evil with various and awesome powers. From the Showa era to the Heisei Era, many riders have their own stories to tell the tale. And the final one is the one who shall become 'The King of Time', Zi-O.
A 23-year-old boy name Roland Cabral was very invested in the series, mostly 'Kamen Rider Zi-O' the latest series and the final Heisei Rider. While living his normal life, he received the package he ordered, a toy replica of the Ziku Driver and the Zikan Girade Gun Sword. But upon got them, a mysterious person said in an ominous tone: 'My Demon King, the time has come to begin your journey'.
Soon, he was transported to a familiar world, the Equestria Girls Universe, revert to a 19-year-old teenager, and met the Rainbooms. However, all that changed when a group of time traveling terrorist, the Time Erasers appeared and begin wreaking havoc across the world, corrupting people into feral and vicious monsters in the form of the Heisei Riders, the Void Riders.
Now with the Kamen Riders' histories extinct, Roland and the Rainbooms will have to fight to restore the histories of the Kamen Riders and stop the 'Time Erasers' before their world will be destroyed.
"Cross Beyond Time and Space! Forge the Nexus Future!!"
This is my first Kamen Rider crossover with EG but this time it's a different story while taking some of the familiar element from the Kamen Rider ZI-O but will be like a new story with a displaced element to it.
Characters from other Kamen Riders series(Heisei Series) will be appearing.
Updated: New cover art - From SapphireGamgee
Chapters (4)