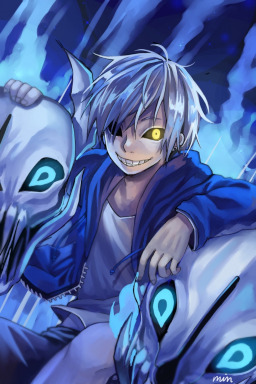 Main Theme: You're Gonna Go Far Kid by The Offspring
Now available on fanfiction.net
Sans knew he was going to die. He'd held off the little megalomaniac as long as he could, but even the power his father had bestowed upon him had failed him. But, maybe it wouldn't be so bad. At least he'd see his brother again. However, as it turns out, while Sans thought he was done with life, life was not yet done with Sans. Now a human, Sans not only finds himself a resident of Canterlot City, but a Junior at Canterlot High School, a member of the boys basketball team and of the band. However, Sans' new lease on life isn't all slam dunks and knock-knock jokes. There are problems he and his new friends have to deal with, ranging from sea pony sirens, to sorceresses who've been consumed by the magic they'd unleashed, even threats from Sans's home… including the very child who'd slain Sans. Will our heroes make it out of this mess, or will Sans and the Main 7 get dunked on?
Set in the Equestria Girls Universe.
My Little Pony: Friendship is Magic belongs to: an alicorn goddess.
Undertale belongs to: The Annoying Dog
---
Hi! I have adopted this story from Crimson Blade79, and they adopted it from someone else. I'm here to continue it, and hopefully do justice to all those who have worked on it. I am looking for an editor/proofreader, and I would be happy to consider anyone who is willing to take the job. To those of you who have already read this, it may be a little different from what you remember. I can only hope I do well...
Updates won't be frequent, not with school, so expect this to be a reeeeeeaaaally slow-updating fic. Hope you all enjoy!
Chapters (2)