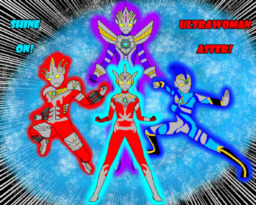 Source
Earth, the year is 2065. After a wave monsters from space invaded in what has been dubbed the "First Incursion", the world created a organization to stop these vile creatures called S. M. I. L. E. (Space Monster Interception League of Earth). To train the next generation of defenders, SMILE Academy was created, and it is here that they will be imparted with the knowledge and skill to fend off any hostile threat. However, an evil has set its sights on Earth, and wishes to initiate a Second Incursion.
But all hope is not lost, for one student, Sunset Shimmer, has the power to repel this extraterrestrial threat. Using her otherworldly device, the StaRaizer, Sunset will set out on her journey as Ultrawoman Aster! Now, if only she could remember how and why she has this power...
A story of discovery, of battle, friendship, and possibly love? It's time for the universe's newest Ultra Warrior to take the stage!
"Release the light within me!"
|| SHINE ON! ULTRAWOMAN ASTER! ||
Chapters (15)