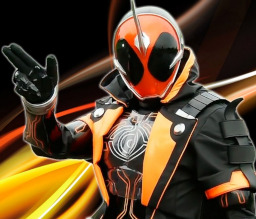 After the event of Chrysalis fled and the Changelings became good, Twilight and her friends returned to Ponyville safelly. But little did they know that a far more sinister threat lies within the shadows, a threat can't be see by living beings are now begin to reach havoc Equestria. Reluctanly for them, a new arrival named Erick Stanford who might have what it takes to help stop the new enemies, how will he do it? One thing is for sure.
HIS LIFE WILL BURN BRIGHT!
---
- A Kamen Rider Ghost Displace fanfic.
-This is not a sequel nor in the same universe with Drive with the Rider.
-However this event taken place after the Season 6 Finale.
-This story can accept crossovers with other displaced fanfics.
-Warning: may contain minor gore and blood shed.
Chapters (7)