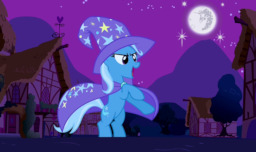 This story is a sequel to By The Light of the Moon
---
All Trixie wanted was to be Great and Powerful, and to study magic at Celestia's School. Fortunately, she had two excellent teachers to guide her. Unfortunately, one of them was a Nightmare...
For more of this AU, see: Ring Around the Moon -- Part I
And also check out the series, beginning with Not Exactly Friends.
Chapters (5)