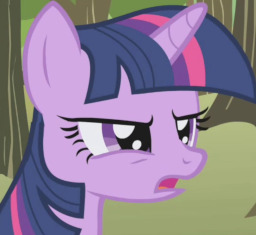 At Celestia's behest, Twilight Sparkle arrives in Ponyville to prepare for the Summer Sun Celebration, and potentially the return of Nightmare Moon.
Her preparations will be anything but easy. The stallions in charge of the festivities all seem to have taken a "romantic" interest in her, and every one of them is terrible at flirting. Really terrible. Really.
---
T for innuendo/creepy behavior. Thanks to Sereg for prereading and to Midnight Rambler for helping with the first draft song sequence. Thanks to Posey, Jetto, Blank!, and Kuroi Tsubasa Tenshi for editing (Plus three other anons who didn't give me their fimfic names). Especial thanks to whatmustido and ocalhoun for nitpicking the hell out of this mess.
All-mare version: Gdocs/FIMfic
All-stallion version: Gdocs/FIMfic
Stallion Twilight/mare main five version: Gdocs/FIMfic
The password for the FIMfic versions is: TUSH
(Every version is essentially identical, save character gender. Comments are enabled on the Gdocs if you notice any typos

)
Chapters (3)