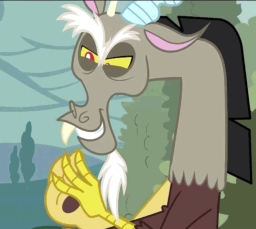 [Canceled]
Discord was defeated. Villains always are. It's really quite cliché.
Before he lost, he asked himself a question: what if your virtues went out of control, rather than your flaws? Perhaps if the heroes and villains weren't so clear-cut, the conclusion wouldn't be so inevitable. If nothing else, there would be some fun chaos along the way!
Can the main six find a way to undo Discord's magic, in spite of themselves and each other?
---
Disclaimer; I have been working on this for a while, and the writing at the beginning is not as good as the writing later. Hopefully it is not too great of an impediment to the story.
Editing by Meta Four, ocalhoun, Kuroi Tsubasa Tenshi, Sessalisk, Sereg, and JapaneseTeeth, all of whom are amazing. Go shower them with admiration!
Alternate cover by sstwins! Unfortunately I couldn't use it since it compresses badly on fimfic, but still worth a look!
Google Docs version (contains unpublished/scrapped chapters and early drafts--if you're only interested in the finished product you can safely ignore this link)
Chapters (11)