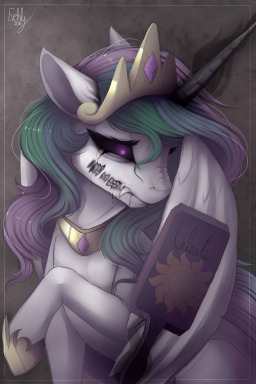 Source
This story is a sequel to Inexcusable
---
She looked just like Princess Celestia, except marred and broken. Her ceremonial barding had rusted slightly, and dirt matted her coat. Most noticeable was her hair; black streaks accompanied its usual multicolored luster. They looked like discolorations in an old photograph.
Worst was the scar across her chest. Her armor covered it, but nothing could hide what it meant.
The tarnished Celestia smiled at Luna. "H-hello, monster. I would say I am glad to see you, but that w-w-wouldn't be quite accurate."
---
A big thanks to AlicornPriest for editing/prereading.
Russian translation by MLPMihail, with editing by Randy1974.
Comments contain spoilers. See here for a complete series timeline.
Chapters (13)