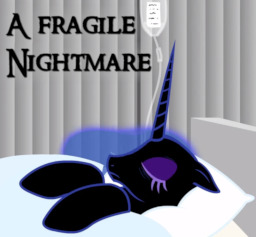 Source
"On the longest day of the thousandth year, the stars will aid in her escape."
Celestia was prepared to face Nightmare Moon in battle.
What she wasn't prepared for was to face her in a hospital bed.
---
Can be read both as a standalone and as a spiritual semi-sequel to "The Nightmare Crumples" by Eruantalon. Cover image courtesy of FluffyMixer, used with permission. Now has a Russian translation!
Caution: Story may contain cheese, overly dramatic moments, and a happy ending despite the 'sad' tag.
Chapters (1)