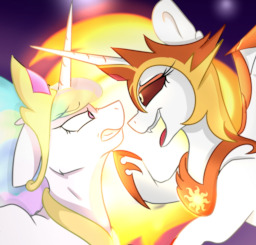 Source
Contains spoilers for Season 7, Episode 10: "A Royal Problem," as it takes place the evening after the events in that episode. The episode itself serves largely as a framing device, however.
Long ago, Luna turned into a twisted, evil version of herself, and Celestia remained to watch over Equestria. Yet Celestia has wondered whether she too could turn into a "Nightmare"... and she's speculated about what she would become.
She has kept these thoughts to herself, but when Celestia and her sister witness the former's evil counterpart, "Daybreaker," in a nightmare, Luna notes that Celestia does not seem too surprised at her own "dark" side...
The next evening, Luna asks Celestia for her thoughts on Daybreaker - and asks what exactly would turn Celestia into such a monster...
Proofread by SPark.
Chapters (1)