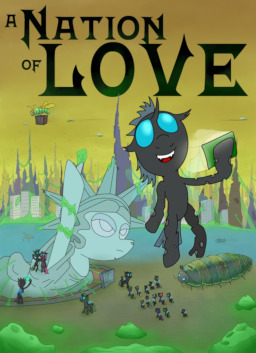 Source
Omnifaria – the Nation of Love. Synonymous with progress in bio-engineering, environment-friendly technologies, and industrialized love-production.
Omnifaria represents the promise that no changeling must ever go hungry, that every nymph will be allowed to reach their full potential. It is a utopia – and the most powerful nation on the planet.
All built on the ruins of the magical land of Equestria.
A Chrysalis-timeline story, 200 years later.
"...You know, ponies have actually been romanticized as of late."
---
A slice of life story making light of a darker setting. Effectively a continuation of FanOfMostEverything's "A Crazed Gleam", though reading it is not strictly required.
Dark tag for the juxtaposition of telling a story about friendly changelings in a setting predicated on the end of pony civilization and occasional "dark" world building elements, yet aiming for a "happy end".
Story is also available as a text-to-speech generated audio book. Cover art (c) myself.
Chapters (3)