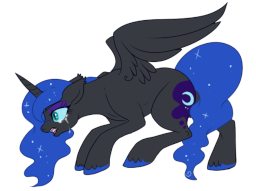 Source
This story is a sequel to If You Came to Conquer
---
Princess Nightmare Moon had tried to keep it secret. She had suppressed her power, feigned ignorance, played the outdated fool at every opportunity. She should have known that something like this would happen. A threat that would reveal her, whether she played dumb or not.
If she had to reveal herself, then at least she could protect Equestria in the process. She nocked the arrow. The bow felt so flimsy, but she could not risk him absorbing a spell. She laced magic across the arrow and the string and the air, enough to make it fly faster and aim smoother. She sighted him easily; Tirek was a large target. Now he only had to turn around. An arrow to the spine would kill him simply and instantly, no matter how much magic he had absorbed.
Once he was dead, the hard part would come: explaining herself to Celestia.
---
Prereading thanks; Meta Four, Blank!, Yami Vizzini, and especially Craine
Russian translation by Doof
Chinese Translation by Dreams Set Free
Comments contain spoilers.
Chapters (7)