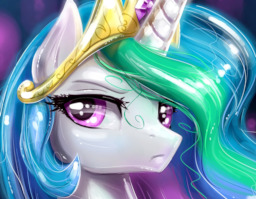 Princess Celestia is the epitome of purity. Everypony loves her, and worship the ground she walks on. But what about Princess Celestia herself? How does she truly feel about the attention she gets.
If only they knew what she really thought of all of them. They might not worship her then. Instead, they might actually realize that Nightmare Moon was the least of their worries.
---
My entry for the Twilestia is Bestia 10th bimonthly contest. Please enjoy it!
Chapters (1)