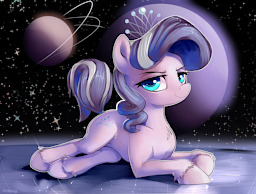 Source
I've never been good with ponies. Honestly, I would have been happy just being with my parents for the rest of my life. That all changed when they sent me to normal school. No, I didn't get better with ponies. But I did find someone who was just as bad as me. There was just one thing though. My soul was pure white, untouched by darkness and evil. Her soul was pure black, and only knew darkness and evil. She was a monster, and she wanted me to be hers and only hers.
And I loved every bit of it.
My name is Silver Spoon, and this is how I met a true monster, and how that monster became my best friend, and eventually more.
This is how I met Diamond Tiara...
---
Cover art by GSphere
Chapters (1)