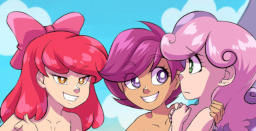 During Spring Break, Sweetie Belle decides to help her sister deliver a dress for Sunset Shimmer. What she doesn't realize is that the former unicorn has a secret. Despite spending so much time as a human, Sunset still finds clothing uncomfortable and enjoys living in the buff whenever she can.
Although reluctant to embrace the idea at first, Sweetie decides to follow Sunset's example and try the clothes-free lifestyle for herself. The young teen comes to realize that she loves the feeling of freedom it offers and wants others to enjoy it too. Thus, the Natural Living Appreciation Club was formed.
*Please note that this story primarily focuses on naturism as a lifestyle. It does not contain exhibitionism or graphic depictions of sex.
Collab Authors: Blake Skies Enclave2277
Chapters (20)