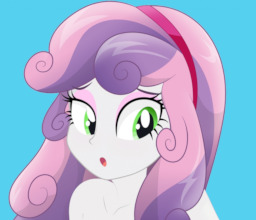 This story is a sequel to Canterlot High Has A Club About What?!
---
The long summer in Canterlot City has come to an end. And for Sweetie Belle, not a moment too soon! She can now begin a fresh school year with the NLAC free from Diamond Tiara's schemes. With new found support from Silver Spoon and Rarity, Sweetie plans for this year to be the best she could possibly have.
But when a new student, who wears a mask and covers her entire body appears, a daunting challenge is thrown Sweetie's way. Will she be able to uncover the mask, see the tragedy behind it, and use her new lifestyle to help this mysterious transfer student?
Author: Blake Skies
*Please be advised that any inquires regarding the cover photo will be ignored*
Chapters (16)