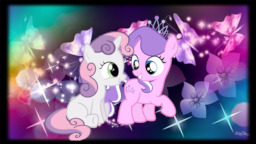 Source
Diamond Tiara upsets the wrong show mare and is inflicted with the most horrible curse imaginable! One that forces her to be nice to everypony.
The now cursed Diamond Tiara must find a way to remove the horrific infliction, or suffer a lifetime of not being about to point out the flaws of other ponies. After all, how will they better themselves without Diamond to guide them?
And what of relationships? Will her new inability to mock others make more ponies like her? Or will it just alienate her from the few ponies she could call friends? Maybe she'll even find love.
Thanks to Mattricole for providing the prompt and Yukito for his roundabout inspiration. Additionaly, thanks to FrostMane for being the closest thing I have to a proof reader and AliRedStar for just being himself.
Chapters (4)