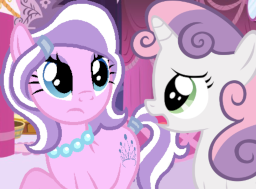 Life isn't fair when you're a teenage pony. Your sister forces you to host a sleepover for your most hated enemy. Your father browbeats you into trying to 'make friends' with the bully that makes your life hell.
At least Diamond Tiara has Silver Spoon, for support. And Sweetie Belle has friends like Apple Bloom and Scootaloo. They bring support, both moral and alcoholic.
The punch is spiked. Tongues are being held. Ponies are on edge. All this sleepover needs is a spark to break the fragile truce between two fillies who will never, ever be friends.
Never ever . . .
(notes and minor spoilers further down)
(Written and developed in the same 'Universe' as Einhander's story, Royals. Story takes place after the events of Royals. Reading previous story recommended, not required. Original idea developed from FrostMane.
Marked sex for teenage sexual content. Marked teen for teenage content. Teen teen teenage teen. It's a coming-of-age story with a first kiss and some underage alcohol. Diamond is from this picture, with some small alterations. The whole pic is a composite of Google images, so I didn't add all the source URLs. If I used your art, and you want a credit, I'll add one.)
Chapters (1)