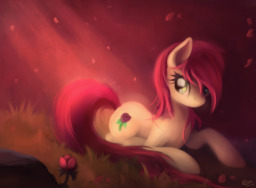 Source
They call it the Starlight Rose. Roseluck sells them at her shop, although she only has one a day.
Everypony has at least heard the rumors about what happens to those who buy the rose and sleep alone. Could one simple blossom truly bring secret fantasies to life, if only for a night?
Only Roseluck knows for sure.
(A collaboration between myself and Einhander.)
Chapters (2)