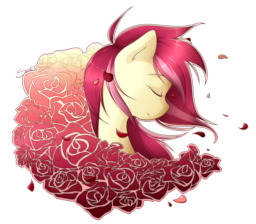 Source
[Warning: Spoilers in the comments]
The world around Roseluck is slipping away piece by piece. Color drains away, fear creeps in, and an empty town hides a secret she is afraid to face.
When all that remains are memories of family, friends, and fleeting moments, a friend tries to help her hold onto them before they fade away.
Before she fades away.
Cover art by secret-pony used with permission.
---
This story wouldn't be where it is today without the help of Minds Eye. Editor, pre-reader, idea wall, friend.
I also had a ton of help and encouragement from these fine folks acting as pre-readers and/or editors:
Between Lines, Evilhumour, Smaug the Golden, CogWing,Cerulean Voice, Adda le Blue, SirTruffles, wYvern, Syeekoh
Chapters (10)