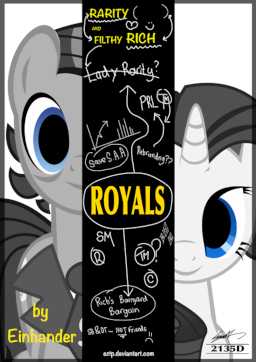 Rarity always wanted to be Lady Rarity. Over time, it became more clear it was not meant to be. But she's fine, she's got a successful business in Ponyville, her fashion line showing in Manehattan and she has her friends, even if most of them are moving on with their lives. A prince sweeping her off her hooves was just not meant to be.
So how in Equestria did she end up on a date with the richest pony in town?
Confusion, feelings and wine mix for a potentially explosive, heartwarming (or rending?) evening, along with a pinch of generosity.
A sweet, feels-full, wistful Rarity X Filthy Rich romance fic in three parts.
FEATURED, 1/9-1/11/14. ADDED TO TWILIGHT'S LIBRARY, 1/10/14.
UPLOADED TO CANTERLOT'S FINEST 1/17/14.
FEATURED ON EQUESTRIA DAILY, 6/1/14.
Written and developed in the same 'Universe' as Cola Bubble Gum's story, Rum Punch. Story takes place before the events of Rum Punch. If reading in order, read this story first.
Other Royalsverse stories: Colts, by Guy Incognito, Heart of Silver, by The Weatherbug, and Despicable Blue, by yours truly.

Initial idea was suggested by Cola Bubble Gum.
Story inspired by the song Royals as sung by Puddles Pity Party (kind of), and my deep love for Rarity (oh yes.)
Editors: Sharp Spark, Cola Bubble Gum
Additional Editing by: Comrade Sparkle
Artwork: 2135D Artwork inspired by Silver Linings Playbook , but made into a beautiful, better image by 2135D
Part of my 4 Prompt Jan Challenge. Even though I already broke the rules and made this a chapter story, and went over the word limit.
(Also, it's total horsefeathers that there isn't a Filthy Rich tag.)
Chapters (3)