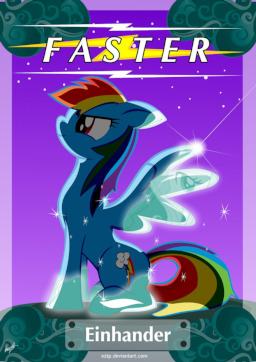 Ponies get older over time. They slow down. This is a part of life. But Rarity, Twilight, Applejack, Fluttershy and Pinkie Pie can keep pursuing their dreams as they get older. Rainbow Dash can't. This is her last chance to be a Wonderbolt, and despite working her tail off, she's not getting any better. In fact, she's getting slower. She just wants things to be fair. She wants one last chance to achieve her dream.
She wants to be faster.
This is what happens when she gets her wish.
A three part story.
Featured 10/7-10/9/13. Posted to Equestria Daily on 5/2/14.
Now with a sequel.
MEDALS AND RIBBONS:
This story is part of Twilight's Library because of Skeeter the Lurker.
And
It also won Skeeter the Lurker's medal.
Entry for the Writer's Group Contest & the Rainbow Dash Contest.
Winner, 2nd place, Rainbow Dash Contest.
Voted in by Twenty Great Stories on 11/3/13.
Voted in by The Royal Guard, March 2014
Edited by: SpaceCommie, Cola Bubble Gum
Artwork by: 2135D
An earlier draft of this cover art was featured on EQD.
Chapters (3)