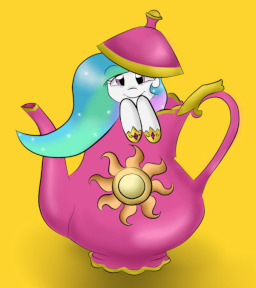 Source
Every week, Cadance and Celestia used to have tea and discuss everything. Now that Cadance has become Princess Mi Amore Cadenza, ruler of the Crystal Empire, those weekly tea sessions have gone away. So Celestia decides to visit the Empire, unannounced. Why?
Because, as Cadance is about to learn, when you are a Princess, making a pot of tea is more than just making a pot of tea...
Set in S4, before the events of Three's a Crowd.
Non-mature FB on 3/22/14. Mature FB on 3/23/14.
Added to Twilight's Library on 3/23/14.
NOTE: Rated E for everyone, but if this was a movie, I'd rate it PG for Adult Situations. These ponies have a serious talk about life and s--t.
Prompt suggested by Skeeter the Lurker. ("Cadance and Celestia have tea.")
Pre-read and edited by Cola Bubble Gum and Sharp Spark.
I don't know who made this amazing picture. If you know who, or are that person, PM me for credit. ARTIST FOUND!
Thanks, Xeadin!
Chapters (1)