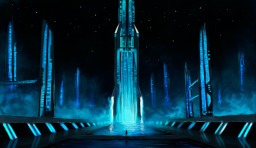 Source
After an attempt at a triple sonic rainboom goes catastrophically wrong, Rainbow Dash wakes up on a beach with no idea as to how she got there, how she'll go home, or who the other pony towering over her is.
While Rainbow and her new companion attempt to answer the former's questions, Princess Luna goes on a mission to exact justice from the one who bestowed upon Rainbow the gift linked to the disastrous stunt.
Finally, Fluttershy and Pinkie Pie use their connection to their friend in an attempt to find her, only for Fluttershy to find herself fighting to save Pinkie from sinking into a shattering abyss.
WDTP: S2/3
NOTES + CREDITS:
This is the first story overall in the Timeline-42 series, and is the first story of the Terminus & Exordium arc.
"Granfaloon" appears with permission granted by Alex Warlorn of Pony POV Series fame.
Most of the colour descriptions are derived from Procato's Color Map with Meaningful Names.
For best results, please read the next story of the trilogy after reading this one:
* "Ad Mortem, Ad Vitam"
Chapters (4)