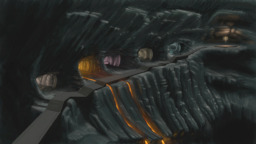 Source
The Everfree Forest... Today, these words are able to fill a pony with fear - fear of the unnatural forest that grows and thrives by itself, without pony magic. But what most modern ponies don't know is that their culture, and even the history of their greatest magic, can be traced to the roots of the Everfree, deep below...
This is the tale of two unicorns who paved the way for the advent of Harmony, and also their quest for magical knowledge.
Cover art courtesy of stheneboea on DeviantArt.
Just in case you're interested, I do use the expanded Dovahzul lexicon from thuum.org in this story.
UPDATE 11/26/13 Origins is 100% compatible with Season 4!
UPDATE 10/6/13 Updated to include the "Gore" tag because there may be some blood in future battle-scenes.
Chapters (7)