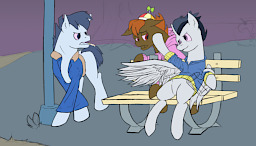 It's Button Mash's birthday and he's finally legal across all of Equestria. All he wants to do is stay in, work on his kill to death ratio in Thirst for Blood and maybe catch up on some back issues of Moanin' Mares. Unfortunately for him, he has two best friends who've decided they've had enough of him being helpless, repressed and anti-social.
Rumble has a plan: a night of bar hopping from one end of Ponyville to the other where, hopefully, Button Mash can find a girl to take home. Rumble is absolutely sure this is the going to be the best night of Button Mash's life. Button Mash is absolutely sure he just wanted to stay in. Shady Daze is absolutely sure he wants to keep his two best friends out of a prison cell.
Nothing could possibly go wrong.
(Set in the same world as Einhander's 'Royals' and Cola_Bubble_Gum's 'Rum Punch'. All the events are set after both stories.)
Cover art by Silver_Tip
Edited by SpaceCommie
Proof-Read and Co-Written by Shub-Niggurath
Chapters (17)