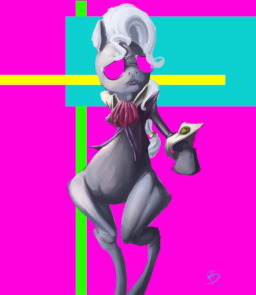 Source
Approaching his fortieth birthday, Hoity Toity -- Canterlot's fashion king -- struggles with his growing obscurity as a designer, an unspoken rivalry with 'Miss Rarity from Ponyville', his disillusion with youth culture in Canterlot and his inability and lack of desire to re-invent himself.
(I feel I should mention this story has shades of M/M, Drug Use, Alcohol abuse and is quite overly pessimistic and cynical.)
*The Amazing Artwork is provided by the multi-talented Pandemonia.
Chapters (2)