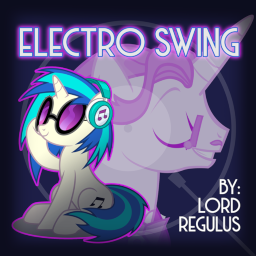 This story is a sequel to Gloria Celestia
---
A rumor here, a scandal there, and a peppering of negative publicity can easily provide all the ammunition necessary to take down some of the most powerful players of the Canterlot nobility. But when one party foul too far turns the entirety of the upper class against DJ Pon-3, Upper Crust leads an unrelenting blitz against her, and Vinyl Scratch's world begins to crumble all around her.
Unwilling to let an accident ruin the DJ's reputation on the callous whims of Canterlot's elite, Fancy Pants decides to make a risky investment into counter-culture and help Vinyl get back on her hooves. However, it's going to take more than the prestige of the Kingmaker of Canterlot to get this record spinning again, especially when real royal matters start spiraling out of control.
---
Edited by: TheAncientPolitzanian
Proofread by: Alchemik
Preread by: Jymbroni
Cover Art by: W. Viloria of Vintage Future Games
Takes place shortly after the events of The Crystal Empire - Part 2
Part of the Silent-verse AU of stories. While not necessary reading, be sure to check out the other stories in the universe:
Forbidden Melodies - Breaking the Silence
Gloria Celestia - The Origins of the Silence
A Peach is Worth a Thousand Problems - The Silly Spin-off for Fun!
Aims to update every other Wednesday.
Special Thanks to ShutterflyYay for their contributions to the original drafts.
Special Thanks to anonixar for helping ensure accuracy in French with this fiction.
Special Thanks to Stormfox from the Discord server for helping with the costuming research.
Chapter 31 Preread by Wanderer D and kingsredarmy
Chapters (59)