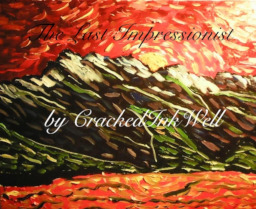 Warning: The following story contains M/M shipping. If you don't like it, you know where the exit button is.
Also the picture is a real painting that I did several months ago.
---
On the way home from a stressful day for dinner on a rainy night, Fancy Pants and Fleur de Lis were riding in a cab when suddenly as they were passing the poorer part of Canterlot, someone threw a painting out of frustration into a garbage can below. Curious, the unicorn got out of the cab and pulled it out of the rain to find an painting done with impressive skill. As time goes by, his curiosity about the artist who paint it lead him to a stallion down on both himself and his luck by the name of Acrylic Brush.
---
A huge thank you to Isk for helping me proofread this story. And to Milo Chalks for finishing the last remaining chapters.
Chapters (35)