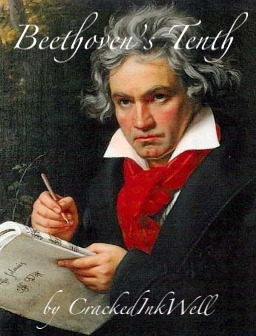 Source
It was 1825, and it's been a year since Ludwig van Beethoven had premiered his Ninth Symphony. One evening as he did his daily walks in the Austrian countryside, a surprise storm forced the composer back into his cheap, rented room. Where a mysterious shadow whisked him away to Equestria, taking everything, including his music along with him.
Holding Ludwig captive against his will, the shadow tells him that if he ever hopes to see all he knows and loves in Vienna, he would have to give him something in exchange. Something priceless that only he could give. The shadow demands that he'll give Beethoven one year to compose his Tenth Symphony, or give up all hope that he will ever return home.
---
Please keep in mind, this story is partly edited. Only between chapters, 54 to 61 is edited by Circut Breaker.
---
Music for this fic are, in chronological order:
- Piano Sonata No. 14 (Moonlight Sonata) 3rd Movement.
- Bagatelle in F minor.
- Piano Sonata No. 8 in C minor Op. 13 "Pathetique" 2nd Movement.
- Für Elise.
- Rondò alla ungherese, quasi un capriccio Op. 129 "Rage Over a Lost Penny".
- "Music to My Ears" by DJ PON-3.
- Concert Etude #4 for solo cello by Bukinik.
- Cello Sonata in A Op.69: Allegro, ma non tanto, 1st Movement.
- "The Old Grey Mare" Variations in the style of Beethoven. Improvised by Richard Grayson.
- Salve Regina (Cello solo, arranged from the Gregorian Chant by Tomoyan).
- Symphony No. 1, 1st Movement.
- Symphony No. 1, 4th Movement.
- Symphony No. 2, 1st Movement.
- Symphony No. 2, 2nd Movement.
- Symphony No. 2, 4th Movement.
- Piano Sonata No. 17 "Tempest," 3rd Movement.
- Symphony No. 3, 1st Movement.
- Symphony No. 3, 2nd Movement.
- Symphony No. 3, 3rd Movement.
- Symphony No. 3, 4th Movement.
- Piano Sonata No. 14 (Moonlight Sonata) 1st Movement.
- String Quartet op. 135 (Lento assai, cantante e tranquillo).
- Nocturne No. 20 in C# minor by Chopin.
- Piano Concerto No. 4 in G Major, Op. 58.
- Symphony No. 4, 1st Movement.
- Symphony No. 4, 2nd Movement.
- Symphony No. 4, 4th Movement.
- String Quartet No. 13 in B-Flat Major, Op. 130: II. Presto
- Beethoven - Rondo a Capriccio REMIX by TPRMX
- String Quartet No. 14 in C# minor, Op131. Allegro (7th Movement)
- Piano Sonata No. 29 "Hammerklavier," Op. 106: 5th Movement
- The Spectacle (Razzle Dazzle) from season 5, episode 24.
- Symphony No. 5 in C minor.
- Piano Sonata No. 1, Ops 2. 2nd Movement (Adagio)
- String Quartet no. 15 op. 132. 3rd Movement: Molto Adagio.
- Nocturne in Eb Major. Op. 9 No. 2 by Chopin
- String Quartet in B-flat major, Op. 130. 5th Movement: Cavatina
- "The Swan," for violin and piano by Saint-Saens.
- Symphony No. 6, 1st Movement
- Symphony No. 6, 2nd Movement.
- Symphony No. 6, 3/4/5 Movements.
- Turkish March, from "The Ruins of Athens," arranged for solo piano.
- Violin Sonata No. 9 (Kreutzer), 1st Movement.
- "Mark Yonder Pomp of Costly Fashion," arranged by Beethoven.
- Violin Concerto In A Minor, 1st Movement by Vivaldi.
- Native American Music & Chants by Phil Thornton.
- "Oyate Miye" (War Song) by The Native Tribes United.
- "Lakota Lullaby" by Robert "Tree" Cody.
- Auld Lang Syne by Beethoven.
- Cello Sonata in D Major No. 5, Adagio.
- Piano Trio No. 3 in C minor Op. 1 No. 3: IV. Finale (Prestissimo).
- Violin Romance No 1, Op. 40.
- Egmont Overture.
- Symphony No. 7: 1st Movement
- Symphony No. 7: 2nd Movement.
- String Quartet: Große Fuge, op. 133
- Missa Solemnis: Kyrie (excerpt).
- Missa Solemnis: Gloria in excelsis Deo
- Missa Solemnis: Gloria; In gloria Dei Patris
- Missa Solemnis: Credo; Et incarnatus est
- Missa Solemnis: Credo; et vitam venturi sæculi
- Missa Solemnis: Sanctus; Benedictus
- Piano Concerto No.6 in B flat, K.238. 2nd Movement: Andante un poco adagio by Mozart.
- Choral Fantasy for Piano, Orchestra and Choir.
- Coriolan Overture
- Symphony No. 8: 1st Movement.
- Symphony No. 8: 2nd Movement.
- Symphony No. 8: 4th Movement.
- In fourore iustissimae irae, RV 626. By Vivaldi.
- Symphony No. 9: 1st Movement.
- Symphony No. 9: 2nd Movement.
- Symphony No. 9: 3rd Movement.
- Symphony No. 9: 4th Movement (Ode to Joy).
- Piano Concerto No. 1, 2nd Movement: Largo, Romance by Chopin.
- Piano Concerto No. 5, "The Emperor"
- Bagatelle No. 3. Op. 126.
- Reconstructed Largo from Oboe Concerto in F Major (Hess 12)
- Symphony No. 10, Unfinished (Reconstructed by Barry Cooper)
- Beethoven's Last Thoughts (reconstruction from the sketches of Ludwig van Beethoven)
Chapters (62)