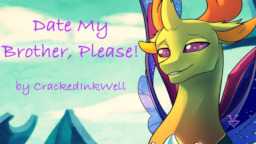 Warning: The following story is currently unedited and contains suggestions of M/M, if you do mind one or both of these factors, you know where the exit button is.
---
Lately, King Thorax is feeling rather down. Although his friends are already dating or married, he feels left out. Hearing this, his brother, Pharynx with the help of Equestria's newest adviser, Spike, set out to find the King a mate. But there's a catch to this match-making, Pharynx has reason to believe that his brother is gay. So who exactly could they get Thorax to date and, more importantly, will it go well in this comedy of assumptions?
---
A special thanks to a certain someone who offered me the idea who wishes to remain anonymous.
Chapters (1)