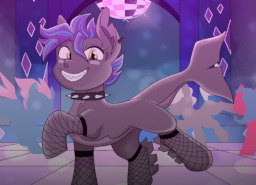 This story is a sequel to Missed Stop, Monstrous Meeting
---
You are a unicorn stallion who has just arrived on the Haywaiian Isles by airship to gather some research for your next book. As you step off the ramp, a few pounds lighter after the wobbly ride, you meet your tour guide and begin your exploration across the islands.
While the diamond dog by the name of Holly might be your tour guide, there are other interesting characters that await you here in Haywaii. Some of which can be pretty intimidating. Enjoy your stay.
---
Note: It needs to be noted that I do consider the story: Somewhere, Beyond the Sea, by Lupine Infernis to be canon with this story/universe, so if you don't wish to spoil that story for yourself, please go ahead and read it and come back here. You will understand why.

Of course, if you don't want to, then you don't have to. It is merely a suggestion.
My good friend, Quillian Inkheart, was a big help when it came to working on the Haywaiian setting. In addition to his advice he also preread and edited the story for me.

The story was proofread by: ShadowblazeCR.
The cover art was created by: Pigeonsmall, who did a really awesome job with the artwork.
Here is a link to an image of the main shark mare of the story: Jagged Nibble. Drawn by Grim_Grin and colored in GIMP by yours truly.
As you can see, FiMFiction needs more shark pony stories and I am more than happy to oblige.

Chapters (5)