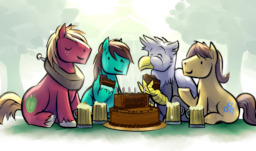 It's Hearts and Hooves Day, and Big Macintosh has been forced into a rather fancy getup that... truth be told doesn't fit him in the slightest. While waiting for his lover, Caramel, to come to the bar they're having dinner at, he runs into Troy and Canvas, Ponyville's seemingly most popular couple. They have a small talk regarding Mac's feelings on just how genuine the holiday feels, and more importantly how it doesn't feel like him and Caramel.
Bit of a crossover and a surprise for TheVClaw this valentines day.
Cover art a commission from a friend awhile back (VividSyntax) by BNG.
Chapters (1)