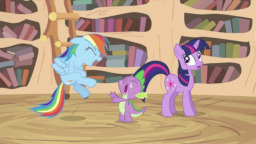 WARNING STRAIGHT RAINBOW DASH!
After reluctantly agreeing to come to Twilight's second official slumber party, Rainbow Dash finds herself trotting off just managing to keep her lunch down as all of her friends begin to discuss beauty tips and overly mushy-gushy feelings on colts. There she finds sompony (Or more correctly, some dragon) who shares more in common with her than thought.
Shippy-ish, only romance if you want there to be.
Chapters (1)