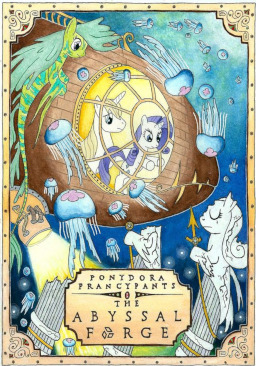 Source
This story is a sequel to The Flight of the Alicorn
---
Rarity was certain her troubles with magical gemstones had ended, but an unexpected royal visit soon convinces her otherwise. In order to save an ailing Princess, stop an ancient menace, and avert a disaster that threatens the survival of a lost tribe of ponies, Rarity, Blueblood, and a brave group of friends will travel to strange and foreign lands, and into the fathomless depths beneath tormented seas. In her quest to uncover the secrets of the Abyssal Forge, Rarity will have to use all her charm, wit, and skill—and rely on allies old and new—as the unlikeliest of ponies once again attempts to save the world in style.
Part Two of Three
The Adamant Triskelion - Book One: The Flight of the Alicorn
The Adamant Triskelion - Book Two: The Abyssal Forge
The Adamant Triskelion - Book Three: ???
Beautiful cover art by Lucky Dreams.
Chapters (2)