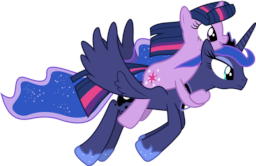 Twilight Sparkle is seen as a hero to all the ponies of Equestria. She not only stopped Nightmare Moon, but she also aided in sealing Discord and helped in preventing a changeling invasion. She however doesn't see herself as a hero, for all of her achievement she had to depend on the powers of others. Just once she would like to know that she can protect her friends herself, and not be the one that always needs saving.
During the first day of her one year leave to return to Canterlot, a strange meeting with Princess Luna opens the door to a great mystery, and a chance to gain the strength she desires. There's only one catch. This strength she can only attain with the help of Princess Luna, who also requires her help in protecting Equestria.
Twilight just has one question. Why does Luna keep calling her "Master"?
Chapters (2)