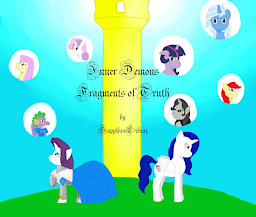 This story is a sequel to Inner Demons
---
A long time ago, there were four friends. Two were ponies from Equestria, but one was an angel from Elysium, and the other was a demon of Tartarus. None of that mattered to them though, as they grew up, they tried to ignore their destinies, hoping that their friendship would prevail over fate. Oh how wrong they were.
Rarity now finds herself alone, trapped inside Elysium, given more questions at every checkpoint and forced to see memories of a past she shouldn't have any connection to. Why is she here? What do the angels mean mean that "her life isn't hers"?
And who is Vale?
This is a vital part of the Inner Demons series. Recommend reading Inner Demons first.
New cover art by The Spectralist
When did this happen?! Fragments of Truth added to the TV Tropes page?!
Chapters (12)